Hogan Guards recently announced the completion of Hogan Hub, the company's newest facility located in its Lagos-Isheri head office compound.
The 460 square meter structure features two state-of-the-art training rooms for Hogan security guards, tailoring and cobbler sections for uniform production, a staff dining hall, a clinic, and a pharmacy with free over-the-counter medication, complete with full-time medical staff to provide free basic healthcare for security operatives and all other staff.
Previously, those facilities existed on the lower level of the company headquarters. However, with Hogan Guards' continued growth and immediate plans for diversification, the organization decided to house those facilities in a separate building and expand the size of its corporate office building to contain its growing workforce.
The new training facilities comprise two rooms, with a capacity of up to 100 people, where training on the company's newly-designed curriculum, which has been upgraded to include innovations in the security sector, will take place.
Hogan Guards' brand new dining hall ensures all office staff and security recruits in training and guards in routine retraining can get nutritious, well-balanced meals during their break without the need to venture out of the office premises.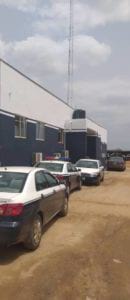 "Hogan Hub was constructed in order to provide our employees with the resources and tools they need to excel at their duties," said Hogan Guards CEO Paul Ibirogba.
"With newer, more technologically advanced facilities for our operatives and administrative staff, we are better positioned to deliver exceptional security services to our clients, which is the ultimate goal," he added.
The company's corporate office building is currently undergoing expansion. Following completion, the administrative staff of Hogan Guards, as well as staff of the five new companies announced by the organization in February, will operate from there.
Hogan Guards is also simultaneously renovating a property in Abuja, which is near completion and will be the company's befitting new office in the nation's capital.